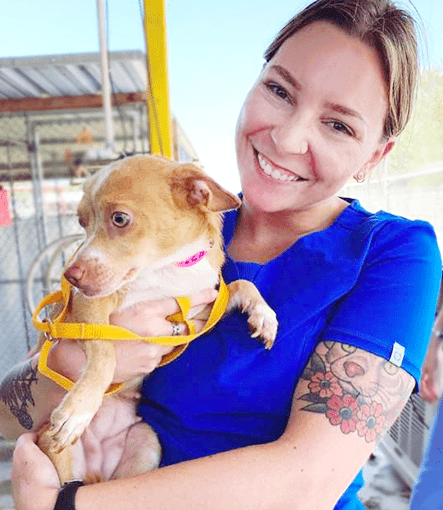 Chrissy earned a Bachelor's Degree in Advertising and worked as a graphic designer for many years creating unique marketing strategies and brands. Eventually, her passion for animal welfare led her to pursue a new career serving as a voice for the underrepresented homeless pets in shelters and rescues. In 2017, Chrissy earned a Master's Degree in Shelter Medicine and Nonprofit leadership from the University of Florida's College of Veterinary Medicine. Her capstone project proved that internal culture plays an important role in successful pet adoptions and retention, and she continues to offer advice to reduce barriers and judgment through speaking opportunities at conferences and during Shelterluv onboarding.
Prior to joining Shelterluv, Chrissy served as Educational Program Manager for the Maddie's Shelter Medicine Program at UF where she participated in national shelter consultations and served as a unique link between those working in the field and the aspiring future shelter veterinarians who completed the Shelter Medicine Internship or pursued a Professional Certificate in Shelter Medicine.
Her previous sheltering experience includes roles as an Adoption Counselor, Foster Coordinator, Veterinary Technician, and Director of Operations for Alachua County Humane Society, in Gainesville, Florida. Chrissy also deploys as an Animal Rescue Volunteer for the Humane Society of the United States in support of large-scale animal transports, disaster response and cruelty investigations.
Chrissy's experience helps Shelterluv customers build efficient workflows and make informed decisions about their operations in order to expand their impact.
Chrissy lives in Gainesville, FL, with her husband Brandon and their adopted fur-kids.
Certifications:
Fear Free Shelters Graduate
Fear Free Certified Veterinary Professional
Animal Technical Rescue Awareness, University of Florida VETS
Incident Command System, FEMA
Animals in Disasters, FEMA