In the spring of 2017, Shelterluv started raising donations for our customers in the mobile checkout flow. Back then, using an adopter's smartphone to check out was an unheard-of idea, as we launched it only four months prior.
Organizations that gave mobile checkout a chance quickly found that it improved the adoption experience. Suddenly, counselors didn't have to be responsible for handling cash or checks, or carry around a ton of paperwork.
And once we introduced Donation Boost, the awkward and inconsistent donation ask went away as well. That was just the beginning.
Over the next six years, we kept dreaming up new ways to raise more money for you, which paid off exponentially. Today, the Shelterpay suite of donation features is extensive:
– Donation Boost in mobile checkout
– Donation Boost Widget
– Donations to cover processing fees
– A "Donate" button on your website's animal listings
– Shelterpay Monthly Giving Program
– Text-to-Donate

If you're not already onboard, we invite you to hop on the donation bandwagon by taking advantage of all these tools – they're included with your software at no additional cost!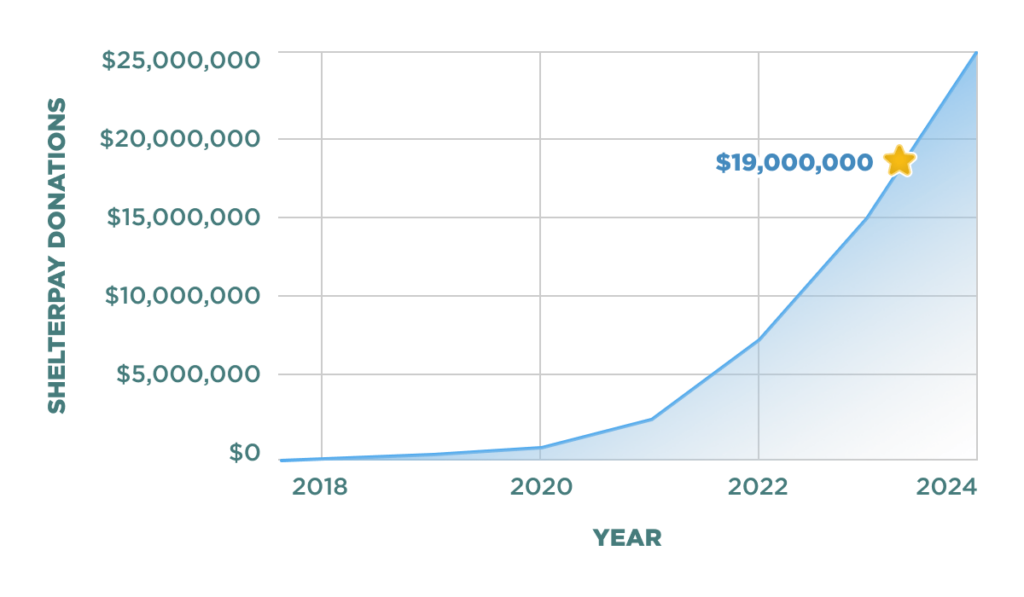 Last week, your donations surpassed $19 million. Based on current projections, they will cross the $25 million mark by the end of 2023. Beyond that? The sky's the limit.
As you know, our hands are full this year with The New Shelterluv Experience. We made this investment because it gives us a solid foundation to build you more innovative tools in the future at a faster pace.
Increasing your donations will continue to be a significant priority for us, and we're excited to see how much farther and faster it can go.