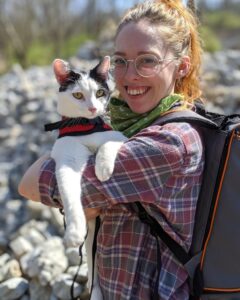 Nicole earned a Bachelor's Degree in English from The Ohio State University. She lived in Texas for a few years and is now back in the great Midwest!
Before joining the Shelterluv team, Nicole's career was in animal welfare. Her most recent position was the Adoption Program Manager at a non-profit animal shelter. In this position, Nicole prioritized eliminating barriers and judgment in the adoption process while fostering a supportive team environment within the shelter. These priorities and a desire to help others led to her speaking at the 2022 Best Friends National Conference about Why Creating a Great Customer Service Experience Helps You and the Animals. While working in animal welfare, Nicole also collaborated with Shelterluv on a webinar to help organizations move towards a more customer-friendly, paperless adoption process while increasing donations. Now, Nicole is excited to have the opportunity to impact more organizations while working with Shelterluv.
Nicole resides in Fairborn, OH, with her partner Emory, her dog, Tutera, and their three cats, Sabriel, Rupert, and Chicken. In her free time, she can be found hiking, playing board games with friends, or knitting.
Certifications:
Fear Free Shelters Graduate
Management Leadership Certification, Southern Utah University and Best Friends Animal Society