Why we created this guide
We've talked with thousands of organizations who are upgrading their software or using it for the first time and we've noticed common challenges:
Most organizations spend too much time on this decision and end in "analysis paralysis." 3, 6, or 12 months later, the team starts over. Time and resources that could have been spent on the transition process are instead used to rehash the evaluation process.
You're experiencing crisis-level staffing shortages — you have open positions and no one to fill them. Workflow and process efficiency has never been more important for you to deliver care to the people and animals depending on you. Now is a good time to switch because upgrading your software can have immediate effects on efficiency, saving your team time and money.
You're pressed for time—animals and people must come first.
You have lots of projects and many competing priorities.
There is a wide variety of personalities on your team with conflicting opinions on and varying levels of familiarity with technology.
Emergencies happen and stall your plans. (We can't prevent emergencies, but this guide will help with the others!)
How to use this guide
This six-step guide was created so that you can benefit from what we've learned from working with organizations like yours; it's a tool to set you up for success and keep your team on track. Carefully think through each outlined step to plan for then dive into your evaluation. You can find a copy of this guide in a Google Doc, linked here. Start using the guide today by downloading it or creating your own editable version by clicking File > Make a copy.
___________________________________________________________________________
Step One: Select the decision maker(s)
Narrow software options to no more than two systems before involving the whole team. Getting everyone involved too soon can be a significant time waster for most non-tech people on your team.
Decision types:
Tiger team (small group of people assembled just for this purpose):

Pros: You'll be able to select a group of people that you feel confident will make time for the evaluation.
Requirements for success: Team members must gather input from all departments and be great cheerleaders to drive implementation!

Single decision maker (usually an executive team member):

Pros: The decision maker is able to more easily make a decision without having to convince everyone on the team first. Champions of change are effective drivers of innovation.
Cons: It can feel like a weighty decision for just one person.

Committee (one department = one vote):

Pros: All are equal, and you'll know that consensus rules.
Cons: Consensus is hard to build, which leads to long, drawn-out evaluations and no decision in the end.
___________________________________________________________________________
Step Two: Establish your timeline
If the evaluation will take you more than 2 months, don't evaluate right now. Do it when you can actually get it done. Dragging out the process due to lack of time will cost you more time in the end because you will retrace steps you've already taken.

If the reason you can't get an evaluation done is that you are too busy with data entry, spreadsheets, and/or copying and pasting information from one place to another, then transitioning software needs to be your first project.

Pick an ideal go-live date and work back from that when planning the rest of the evaluation.
Recommended timeline:
___________________________________________________________________________
Step Three: Determine your software needs
Problem-solving
1a. What problems are you trying to solve?
1b. What features do you need to solve those problems?
Must-haves
2a. What are your "must-have" features?
2b. What are your "nice-to-have" features?
Growth
3a. How do you expect to grow in the next 3-5 years?
3b. What functionality will you need to meet your current and future goals?
___________________________________________________________________________
Step Four: Take action with demos and free trials
Go to software demos prepared with questions

For example, if you are evaluating Shelterluv, test out the free trial and watch one of our demo videos (long version and short version available here). That way, we can better use our time together to focus on the features and questions that interest you most.

Limit the number of people that attend each meeting with the software team.

When too many people attend meetings, attendees feel less inclined to ask questions and more intimidated to start discussions. This is even more pronounced in the virtual meeting.
Time is money, so group meetings are very expensive for your organization.

Save money by compiling questions from teammates and then decide which 1-3 people are essential for the live meeting. Those 1-3 attendees will cover everything.
Have the members that don't attend watch the demo videos and test out the free trial.
Record the meetings to pass to other teammates if needed.
We can also set up department-specific consults as needed to save time for these team members but also get them more detailed answers about a process or feature that is critical to them.
___________________________________________________________________________
Step Five: Compare costs
While evaluating, be sure to keep software's true cost—as opposed to simply price—in mind. Using this guide will help you to evaluate the true cost of each platform.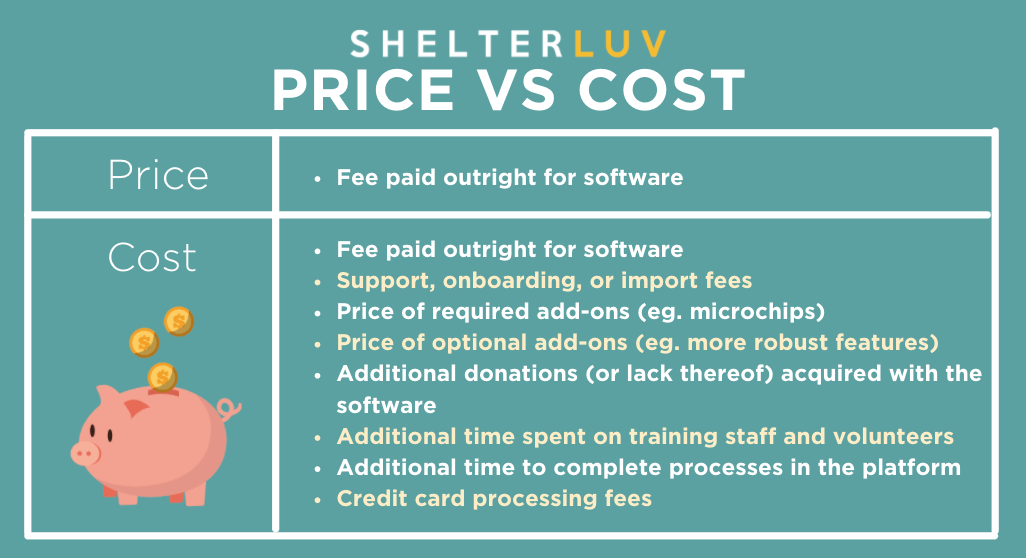 How much does the software help raise in donations?
Shelterluv:
Through mobile checkout (powered by Shelterpay), 81% of adopters donate an average of $20.
82% of our customers cover all of their fees through donations.
Other software:


Does the software charge extra for certain features, import, sign-up, annual, or cancellation fees?
How much will the software fees be?
Shelterluv:
Shelterluv charges $2.00 (USD) per adoption (billed monthly). All other outcomes (ex. transfers, return to owner, etc.) are free of charge. We do not have any annual charges, setup, add-on or support fees of any kind!
Other software:


Can I buy microchips through Shelterluv? And how much will they cost?
Shelterluv:
You have the option to buy microchips directly from Shelterluv. Microchips cost $5.95/chip with free shipping. There's a direct integration with our microchip registry, which is free for you and your adopters.
Other software:



How much more efficient is one platform compared to the other?
Shelterluv:
Time is money! The average adoption takes 7 minutes in Shelterluv, and the average intake takes 3 minutes. In addition to our many timesaving features, Shelterluv is more intuitive than other platforms, allowing your team to spend less time on training volunteers and new staff members.
Other software:


Calculate how much time and money you can save by switching to Shelterluv: Savings Calculator
___________________________________________________________________________
Step Six: Make a decision!
Fill out the activation form to move forward with Shelterluv.
Thanks for reading! We hope this evaluation guide helps your team select a new software system.

Have any questions? Please reach out to info@shelterluv.com!